Inish - Portable Hematology Analyzer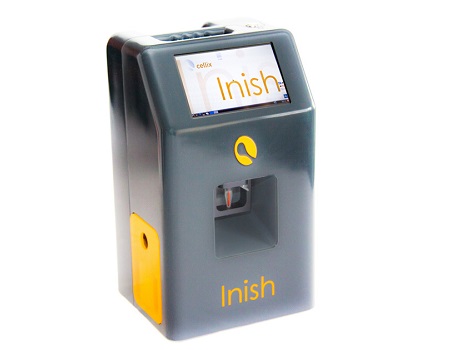 Inish Device is a portable hematology analyzer for cell & particle analysis.
The Inish device is a portable hematology analyzer which provides results in just 60 seconds. With a simple three-step testing process and the use of automated sample loader, this device is easy to use and prevents contamination.
Features:
• Fast, reliable Cell and Particle analysis: → detection, characterization & viability
• Portable, low cost device.
• Technology as sensitive as traditional flow cytometry; benchmarked against gold standards: BD's Accuri and Sysmex XP-300.
Blood Cell Analysis:
• Validated for Red Blood Cell (RBC) and White Blood Cell (WBC) subpopulation (3-part differential) analysis.
• Benchmarked against gold standards (Sysmex).
• Target: near-patient testing; emergency departments; field-use (e.g. warzone); doctor's office.
Specifications:
The following specifications relate to the key components of the Inis device: Haematology Analyzer
| | |
| --- | --- |
| Sample Type | EDTA Whole Blood |
| Sample Size (µL) | 30 |
| Parameters | WBC, LYM, MON, GRA, LYM%, MON%, GRA%, RBC |
| Throughput | 60 Tests/Hour |
| Time to Result | 60 Seconds/Sample |
| Sampling Method | Open Tube Sampler |
| Tube Type | Eppendorf |
| Reagents | Diluent; Lyse; Cleaner |
| Interface | Touch Screen |
| Size (H x W x D) | 16.1″ x 9.4″ x 8.3″; 41 x 24 x 21 (cm) |
| Weight | 20lbs / 9kg |
| Power Requirement | 12 VDC, 5A, 60W |
| Operating Temperature | 0.5% CV |
Performance Specification:
| | | | |
| --- | --- | --- | --- |
| Parameters | Units | Range of Mean | Reproducibility |
| RBC | 106 Cells/µL | 4~5 | Open Tube Sampler |
| WBC | 103 Cells/µL | 4~8 | Diluent; Lyse; Cleaner |