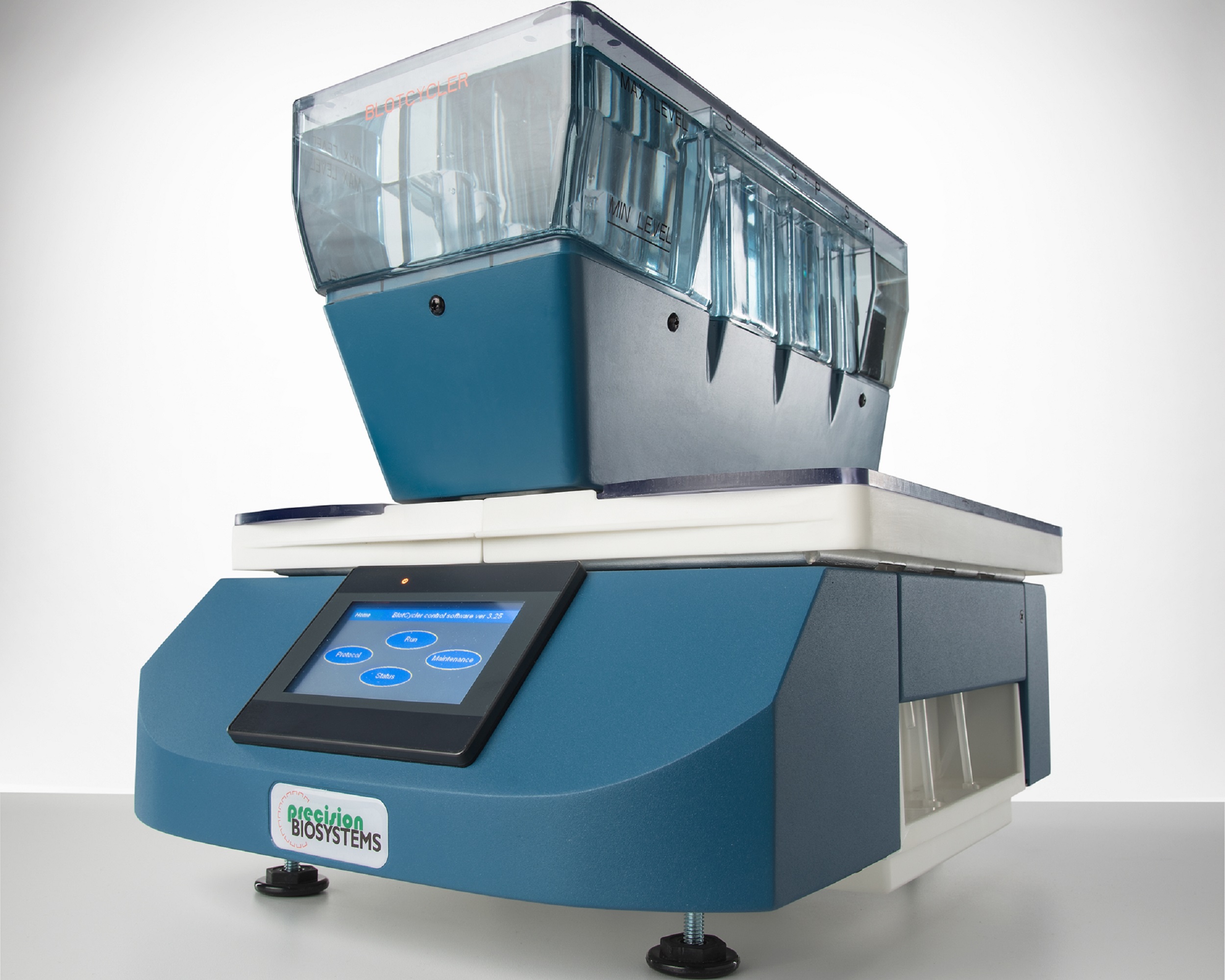 Automated Western blot development and processing is at your fingertips!
The BlotCycler™ is an Automated Western Blot Development processor that processes the blot through all washing, blocking, and incubation steps. All  you do is set-up the system with the required reagents. Then, program the appropriate assay. After that, the BlotCycler™ proceeds with the assay. It alerts you at certain critical steps and when the assay is completed. The system requires no special reagents.  Therefore, you can use the same reagents you currently use and significantly improve your results. Automation increases productivity and generates blots with higher signal and lower background.
In addition, the BlotCycler™ automatically saves your primary antibodies. After running a protocol, use Precision Stripping Buffer, and you can reuse your membrane up to 10 times!
The BlotCycler™ Automated Western Blot Development offers:
• Guaranteed performance
• High sensitivity and reproducibility
• Complete automation of all membrane processing steps
• In addition, there's no change in workflow. You use your existing protocols and reagents
• Processing of up to 12 membranes simultaneously
• Simultaneous processing of six different Primary and six different Secondary antibodies
• Ability to easily program all steps for individual protocols.
• With automated collection of primary antibodies, you save your unique and most expensive reagents for repeated use
• And, automatic cleaning after use with a special shower system insures that all traces of reagents are completely removed
• Increased signal and reduced background, made possible by the unique reagent delivery and incubation system
• Use of minimal bench space (12″ x 12″ for a 6-tray device)
• Flexibility in protocol modification
• Finally, you have better control of your time
The BlotCycler™ Automated Western Blot Development saves time by allowing overnight membrane processing, and makes the results of immunoblotting reliable and reproducible.
Features
• It's compact! It uses less than 12″ of lab bench.
• You can use it almost anywhere! It only requires an electrical outlet.
• It contains no vacuum, pressurized air or gas. And no additional pumps are required.
• And, you can recover primary antibodies with ease at the end of the protocol.
Easy Programming
Program up to 100 protocol steps with an easy-to-use interface. The parameters are adjustable for each protocol step. This includes incubation time from 5 minutes to 72 hours, and 1 to 12 blots per run. An audible alarm sounds at the end of the protocol.  And then, the convenient cleaning cycle can be activated after each run. Wash buffer remains in the trays to keep the blots or gels wet.
Patent pending technology.
Built in the USA for years of trouble free use.
BlotCycler consist of tank for reagent and 6 trays for blots and user interface.
To start Western Blot Hybridization and washing, fill the tank with washing buffer and add up to six different primary and secondary antibodies.
Insert flask for primary antibody collection. Place membrane into tray and add blocking buffer.
Program blocking time, incubation with primary and secondary antibody and number of washing steps after each incubation.
The BlotCycler processes the blot through all washing, blocking, and incubation steps.  The BlotCycler is based on patented fluid distribution technology. All steps after protein transfer to a membrane are fully automated. The product has a total of six trays with three trays on each side. You can process up to 12 blots simultaneously with two different protocols. You can program the system by choosing your blocking time, primary antibody incubation time, secondary incubation time, and the number of washing cycles.