CyFlow® Cube 8 Flow Cytometry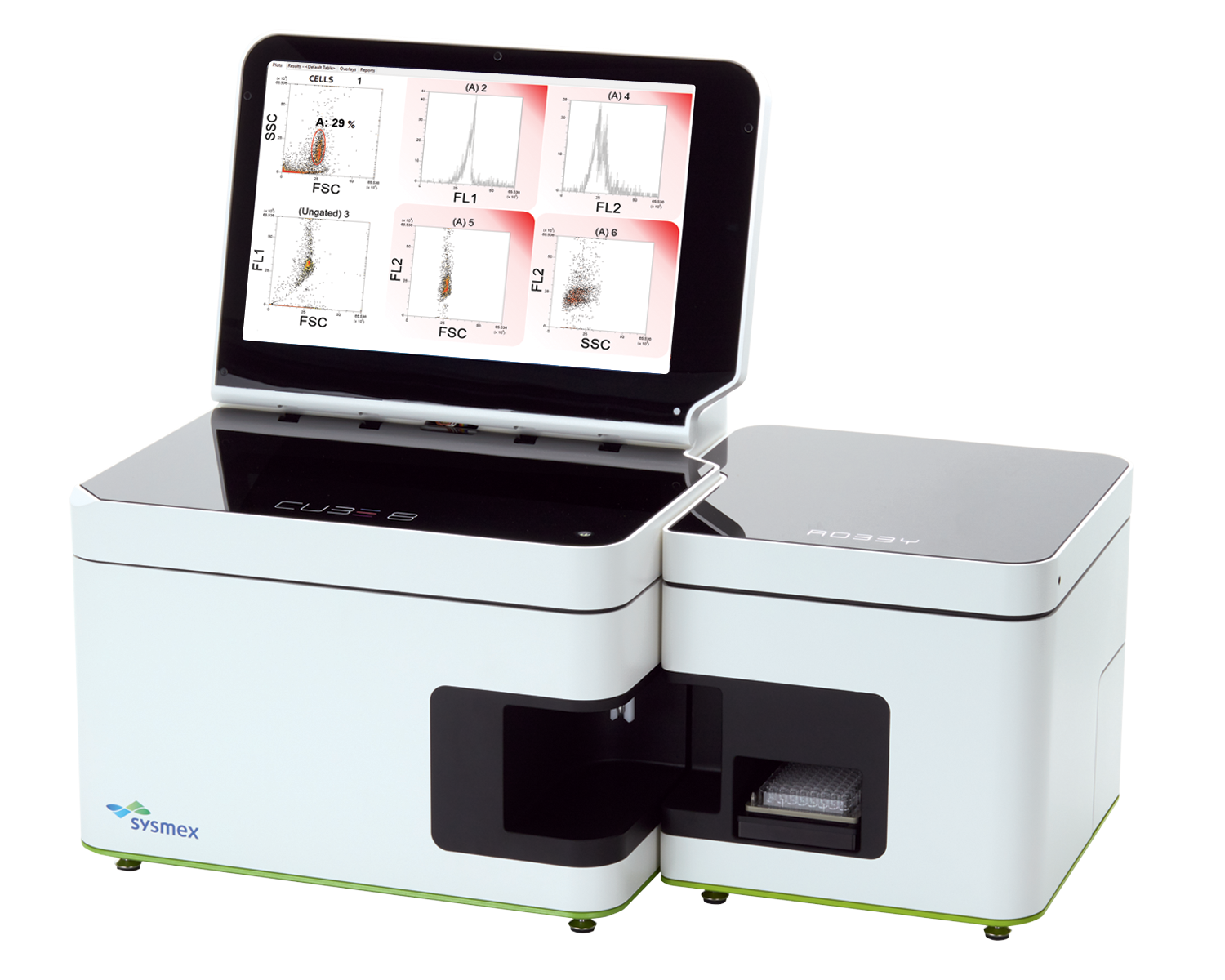 The CyFlow® Cube 8 is a compact flow cytometry analyzer offering modular configurations customizable for your research. This includes upgrade options for optical parameters and fluorescence channels, additional laser light sources selectable from a wide range of nine excitation wavelengths (355 – 785 nm), optional CyFlow® Sorter and CyFlow® Robby 8 Autoloading Station for well plates and sample tubes.
With its small dimensions the multi-laser CyFlow® Cube 8 features built-in Windows™ PC,19″ LCD screen (additional 2nd screen support), software controlled pressure regulators and integrated sheath/waste container. The CyFlow® Cube 8 is equipped with standard interfaces for USB, LAN, video output, etc.
CyFlow® Cube 8
Light Source
Up to 4 light sources (3 laser + high power UV-LED)
Blue laser: 50mW 488nm, 200mW adjustable 488nm
•Red laser: 25mW 638nm, 40mW 640nm
Violet laser: 100mW 405nm •UV laser: 60mW 375nm
•Green laser: 30mW 532nm, 100mW 532nm
•Yellow laser: 100mW 561nm
Orange laser: 50mW 594nm
•High power UV-LED: 365nm
Cytometer Dimensions
•L 500mm x W 470mm x H 370mm
•With Robby Autoloader Station: L 840mm
Software
The newly designed, intuitive CyFlow acquisition and analysis software offers measurement of millions of cells at your fingertips.
Quickly choose your plots for analysis from all combinations shown in Preview Mode
Easily compare plots with the Overlay Wizard, for single or dual parameters
Share and customize your results within your research organization with the report generator
Change your view with Zoom and V-Log scale, you are even able to gate in Zoom Mode
Compensation rapidly with Compensation Wizard
Upgrades
CyFlow® Robby 8 Autoloading Station
Protective housing with no light incidence
Flexible well/tube measurements
Microplates and Tubes
48 or 96-Well-Plates, V, U and flat-bottom can be used (max.2)
Plates meeting the Standards (ANSI/SLAS 1-2004 through 4-2004)
2ml tubes (max. 120)
Autoloader Dimensions
L 370mm x W 332mm x H 370mm
CyFlow Cube Sorter Module
Optional cell-sorter add-on for the CyFlow® Cube 8
The Cube Sorter combines a flow chamber with a piezo element, including electric activation
Sort cells or particles without destruction to ensure high yield and purity
As a closed system, in contrast to typical droplet sorters, the process is smooth with reduced mechanical stress. This is especially important when working with fragile cell types
Avoid biohazardous situations for your cell culture through the sorter's closed compact design that can easily be placed on a standard clean bench or under a hood
Applications
Absolute Cell Counting
Immunology
Hematology and Platelet Analysis
Leukemia and Lymphoma
Leukocyte Depletion
Stem Cells
Pathology
Cancer Research
DNA Analysis
Apoptosis
Cell Cultures
Cell and Particle Sorting
Cell Proliferation
Cytokines
Viability
HIV/AIDS
Toxicology
Quality Assurance in Food & Beverage Industry
Fermentation Process Control
Detection of Microorganisms
Research
Quality Control in Dairy Industry & Milk Products
Biomonitoring
Marine Biology & Algae
Nucleic Acid Composition
Bioreactor Process Optimization
Quality Control in Cosmetics
Research | Agrosciences | Breeding | Aquaculture
Sperm Cell Counting, Viability and Function