Image Pro Premier - Cell Analysis Software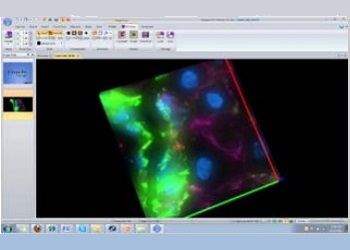 Cell Image Analysis Software for morphology analysis; analysis of movies (*.avi etc.) for cell flow, rolling (i.e. speed) and migrating cells; analysis of time-lapse movies.  Supplied in partnership with Media Cybernetics.
Features:
• Capture:  Easily capture single-frame images and time-lapse experiments; fast acquisition and streaming to disk
• Process & Analyze:  Auto-alignment and extended depth of focus; overlay and compare images; extract and merge colour channels; visualise images in 3D; navigate and edit movies in gallery view; batch process multiple images
• Measure & Quantify:  Measure intensity over time; analyze ringed structures and detect edges; track moving objects
• Count & Classify:  Analyze the spatial distribution of objects; sort counted objects; measure objects within objects
• Report & Share:  Annotate and copy images; create reports in pdf, Microsoft Word, Powerpoint & Excel; record your work; document your steps with the audit trail; graphical and code-based macro and App editing; create, download and share custom apps.
Specifications
File formats
• Readable:  *.tif, *.tiff, *.jpg, *.jpeg, *.jp2, *.jpf, *.bmp, *.png, *.raw, *.flf, *.fts, *.fit, *.fits, *.seq, *.avi, *.wmv, *.tim, *.dv, *.ics, *.ips, *.mcs, *.deb, *.metadatatext, *.oif, *.oib, *.nd, *.stk, *.nd2, *.lsm, *.zvi, *.lei, *.lif, *.svs, *.btf

• Writeable:  *.tif, *.tiff, *.jpg, *.jpeg, *.jp2, *.jpf, *.bmp, *.png, *.fts, *.fit, *.fits, *.seq, *.avi, *.mcs

PC requirements
Dual-core processor, 4 GB RAM, 5 GB of available hard-disk space, 1,024×768 display with 32-bit video card, DVD-ROM/CD-ROM drive, Full Microsoft.NET Framework 4.0 (automatically installed by application), USB port required for hard licenses and offline license activation, internet connection required for online services