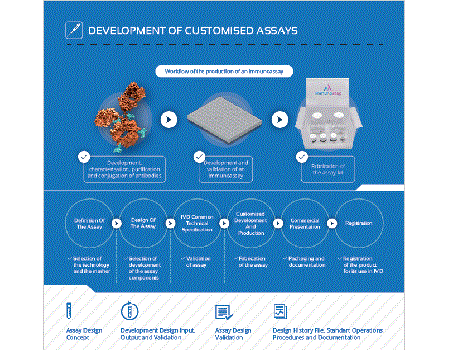 Immunostep offers its customers its long years of valuable experience in the development of assays and kits for diagnostic and research purposes. We pride ourselves on our pragmatic counselling and design, as well as on ourefficiency, professionalism and our ability to provide complete solutions by using a wide range of technologies in order to meet your needs.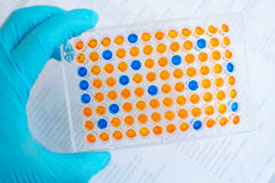 Immunostep has developed a large variety of assays, from biochemical assays, in which the presence of a molecule is detected by means of a reading based on chemical or enzymatic activity, to assays based on the use of antibodies or immunoassays, both qualitative and quantitative, through which the quantityof a molecule is determined by usingan antibody conjugated with an enzyme or a fluorescent molecule and a second solid-phase capture antibody, which can be an ELISA plaque or a latex or polystyrene particle, amongst other surfaces.
Our customized assay development servicecan cover all of the processes within the scope of the assay, from the design and generation of the antibodies in the project, the conjugation and immobilisation of antibodies, the production and purification of proteins, and also the wrapping and packaging.
Figure 1: Workflow of the production of an immunoassay
We are specialised in both the use of virtually all available systems of detection, including enzymatic, colorimetric, fluorescent and quimioluminescent systems, and also in all types of solid phase and liquid phase technologies,such as ELISA, Turbidimetry, Nephelometry and Cytometry, amongst others.
Flow chart diagram indicating the development of customized assays or kits:

• Assay Design Concept
• Development Design Input, Output and Validation
• Assay Design Validation
• Design History File, Standart Operations Procedures and Documentation
We would like to highlight the fact that in the case of those assays whose aim is to establish an in vitro diagnosis, our services can include the normative and regulatory steps needed so that the assay can be marketed with the CE marking corresponding to IVD products, as Immunostep is licensed to manufacture products for in vitro diagnoses (Licence number: 5463-PS).
In addition, and from a regulatory viewpoint, the company´s quality system has been certified according to different regulations, CE mark (CE98/79 – In Vitro Diagnostic Medical Devices).
Licence Nº 5463-PS granted by the Agencia Española de Medicamentos y Productos Sanitarios – AEMPS (Notified Agency 0318)
Our experience is used for translation your project to new markets. We design all about your project with FDA requirements, including CLSI guides, for Technical Specification.
How can we help you?
In order to facilitate an understanding of the wide range of services we offer, we will now show some examples of customized assay development carried out by Immunostep.
| | | |
| --- | --- | --- |
| Nº | Service | Description |
| 1 | Development of a spectrophotometric assayofenzymatic activity | Design and production of the assay components, including the active enzyme as well as the packaging and registration of the IVD kit. |
| 2 | Development of ELISA kits for allergens | Development and production of the pairs of antibodies and assembly of kit for research purposes. |
| 3 | Development of multiplex assay for IVD | Design of the assay, immobilization and conjugation of antibodies with microparticles and fluorochromes, for the detection of markers in urine. |