(CUSTOM) Özel Antikor Geliştirme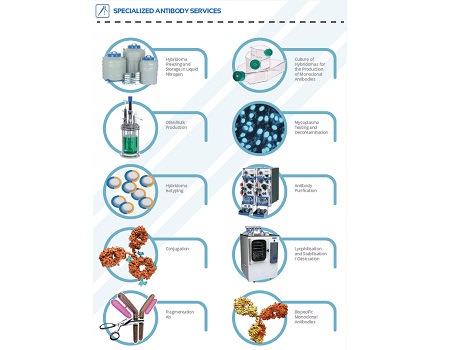 Hybridoma Freezing and Storage in Liquid Nitrogen
At IMMUNOSTEP   we can provide our clients with the possibility of storing various kinds of cell lines, including hybridoma cell lines, in optimum conditions (Liquid Nitrogen). We offer our facilities for managing your lines as if they were our own, providing a service which involves considerable investment and which cannot be undertaken unless there is a large number of lines.
We work within a system that is continually monitored, assures our customers that their cell lines will be kept in optimum conditions, and prevents the risk of viability loss.
The freezing and thawing of cells is carried out using the same processes and with the same quality controls that we use internally for our lines during production.
Culture of Hybridomas for the Production of Monoclonal Antibodies
A fundamental part of our system that is essential for the definitive quality of antibodies is the growth and culture phase of hybridomas. Varied internal controls in this stage of production allow us to offer this service with quality standards ISO 90001 and ISO 13485, as is the case of our own products.
Hybridoma culture can be an invaluable tool for researchers who have access to hybridomas, but do not have the right facilities, or the experience to obtain the tool required: the antibody.
This hybridoma culture can be optimised so as to increase the speed of cell growth or the selection of the most productive clones within the line. The use of a protein-free medium, or a more traditional culture medium (supplemented with fetal bovine serum) as well as a wide range of other mediums can give us information when localising the ideal growth medium for your line. The choice of the perfect culture medium will be important for both optimising growth and production, or simply for adapting it more clearly to the corresponding regulations according to the future utilisation of the antibody.
We can make diverse methods of culture available to our customers, adapting them to the quantity needed, from simple culture flasks to high capacity bio-reactors.
OEM/Bulk Production
As manufacturers of most of our cytometry reagents, we can supply an extensive reference portfolio, which can be adapted to the conditions of delivery requested by our customers. Quantities, purities, conditions etc. can be adjusted as required. Our complete cytometry catalogue, with the same guarantee as all of our products, can also be provided.
Mycoplasma Testing and Decontamination
Some time ago, and after years of working with hybridomas, it was discovered that one of the greatest dangers affecting hybridoma cell lines was the presence of this kind of bacteria. Changes in cell metabolism, in viability, morphology etc. of the cells had a significant effect on the quality of the final product, the AcMo.
Moreover, this infection was one of the main causes of the destruction/disappearance of stored hybridoma lines. IMMUNOSTEP   offers its internal testing controls to its clients. These tests, whether enzymatic or using PCR, can help to locate a problem which is often latent but may cause an unexpected and very negative outcome.
Hybridoma Isotyping
During a hybridoma development process, within our system there is a phase in which knowing the Ig isotype produced is important. This information is fundamental since the type of Ig will condition our way of working with it.
IMMUNOSTEP   offers this service to its clients, whether it is for their own developments in their laboratories or for internal control of their processes. We have updated rapid systems for isotyping, or generalized isotope screening of a large number of samples.
Antibody Purification
A fundamental step in obtaining a quality final product is to conserve the antibodies in the best possible conditions. We are able to offer very high quality starting material thanks to our antibody purification service (MoAb and PoAb).
Several different steps are included depending on the project requirements and the nature of the source sample.
Generally speaking, the steps taken in purification include preparation, extraction and clarification (normally in PoAb) during the process of sample preparation. Diverse types of purification are utilised, and offered, in our processes:
• Purification by molecular exclusion
• Purification by affinity (Protein G/A)
• Purification by specific antigen affinity
• Etc.
Conjugation
For nearly two decades, IMMUNOSTEP  's work has been centred on achieving more "brilliant" results with our antibodies, within the scope of cytometry. This specialisation of our professionals has led to our company's acquiring new conjugation technologies which put us among the leaders in this particular field.
The marking of our clients' antibodies forms part of our system, and we can guarantee optimum results with the fluorochromes, enzymes, biotin or beads.
• Fluorochromes
– FITC- Fluoroscein isothiocyante
– APC- Allophycocyanin
– R-PE R-phycoerythrin (R-PE)
– CY5
– R-PE/CY5.5
– R-PE/CY7- R-PE/CY5
– PerCP
• Enzymes
– Alkaline phosphatase
– Horseradish peroxidase
• Beads
– Biotin beads
– Latex beads
– Polystyrene beads
– Magnetics beads
Our wide experience in this service guarantees the delivery of high quality material in the final product, with optimum antibody/fluorochrome ratios, due to the fully tested steps in the conjugate purification.
Lyophilisation and Stabilisation/Desiccation
At IMMUNOSTEP   we have discovered that our work does not finish when we have produced a quality antibody. In the last few years, some of our R&D resourceshave been focussed on the antibodies obtaining the conservation of their quality for as long as possible. With this aim in mind, and taking our requirements as a basis, we have developed various conservation technologies in-house and have thus managed to prolong the average life of our products significantly.
In this way, not only can our clients request quality antibodies, we can also be asked to utilise the reagent in the best way and in a specific period of time.
Lyophilisation The elimination of water by lyophilisation permits the perfect conservation of samples, such as purified antibodies or different types of proteins, for long periods of time. Our in-house system, with its strict control of the sublimation temperature, a critical point in the process, allows us to achieve extensive conservation periods.
Stabilisation / Desiccation: An important aspect of our work has been the stabilisation of groups of various antibodies, marked with diverse fluorochromes in a single vial. This has surely facilitated the work of technicians and the customised design of combinations suggested by our clients. The utilisation of different resins and/or sugars in this process can easily bring about the stabilisation of marked antibodies in a simple laminar flow cabinet.
Fragmentation Ab
Immunoglobulin fragments Fab and F(ab)2 can be advantageous for a number of experimental methods and have potential for immunotherapeutic applications in cancer treatment, infection clearance, and targeted drug delivery. F(ab')2 fragments are smaller than whole Igs but maintain antigen binding function. The smaller size results in better tissue penetration and less steric hindrance leading to more sensitive antigen detection.  IMMUNOSTEP   has worked along last years for getting the best tools for all your needs.
Bispecific Monoclonal Antibodies
A bispecific antibody combines specificities of two antibodies and simultaneously address different antigens or epitopes. It is an artificial protein that is a merge of fragments of two monoclonal antibodies (Fab regions) and they are directed against two antigens that binds to differents epitopes. We can use this new quality in a few fields, like immunotherapy or oncology, and also it is a new tool useful in diverse investigation, or new developments. IMMUNOSTEP is always looking for new tools for getting the best results for our customers, and this is a tool incluided in a new generation antibodies.
Elvira G et al. Live Imaging of Mouse Endogenous Neural Progenitors Migrating in Response to an Induced Tumor. PLoS One. 2012; 7(9): e44466.
Guallar D. et al. Expression of endogenous retroviruses is negatively regulated by the pluripotency marker Rex1/Zfp42. Nucleic Acids Res. 2012 Oct; 40(18): 8993–9007.
Gamir-Morralla et al. Development of a neuroprotective peptide that preserves survival pathways by preventing Kidins220/ARMS calpain processing induced by excitotoxicity. Cell Death and Disease (2015) 6, e1939; doi:10.1038/cddis.2015.307