(CUSTOM) Protein Saflaştırma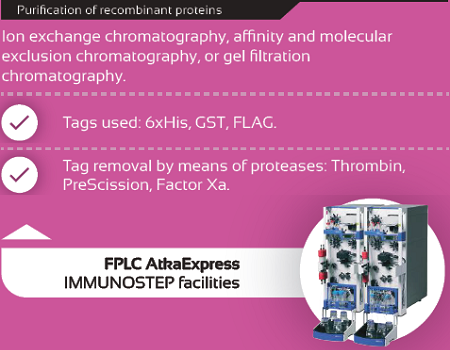 Peptide production Service
A peptide consists of a compound, either natural or synthetic, that contains two or more amino acids linked by a carboxyl group of one of the amino acids and the amino group of another. Peptide molecules are structurally the same as proteins,but are generally smaller. There are many peptides that function in diverse ways, for example as hormones, antibiotics and other compounds which participate in many of the metabolic activities of living organisms.
The chemical synthesis of peptides has been used for many years as an effective tool for both research and diagnostic purposes. In the past, liquid phase synthesis, or "Solution Phase Peptide Synthesis" was performed. However, advances in the knowledge of the chemical basis of the reaction have led to a synthesis of peptides using a solid phase, "Solid Phase Peptide Synthesis".
– Solid Phase Peptide Synthesis. This peptide synthesis method is based on the incorporation of N-α-amino acids into the sequence of any required peptide anchored to a solid matrixwhich acts as a support. In the peptide synthesis process, soluble reagents are generally washed awayat the end of the addition (of each amino acid). Once the desired peptide is obtained, it is freed from the polymeric support.
The general scheme for peptide synthesis is as follows (Figure 1):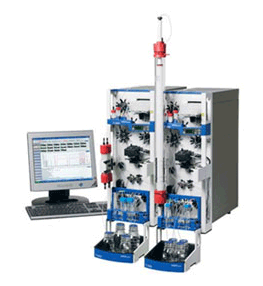 Fig. 1: FPLC AtkaExpress – IMMUNOSTEP facilities.
Protein Characterisation
• Electrophoresis in polyacrylamide gels with SDS and Coomassie staining.
• Determination of protein concentration
• Western blot
• Absorption spectrum
• HPLC
• Mass spectrometry
• MALDI-TOF
• Size exclusion chromatography
Lyophilisation Services
With the goal of increasing the stability and useful life of proteins, and reducing freight charges, IMMUNOSTEP offers customised protein lyophilisation services.
IMMUNOSTEP's great experience minimises the risks of loss of activity or protein aggregation that may occur during lyophilisation by selecting the excipients and stabilisers for the process and adjusting the conditions of the lyophilisation.
Stable Cell Line Development Service for the Production of Antibodies and Recombinant Proteins
IMMUNOSTEP offers the option of stable cell line development from cDNA or by using gene synthesis, thereby providing the customer with the stable clones which can produce overexpression of practically any protein of interest in the cell line selected.
Flow chart diagram of the transfection and development of a stable cell line:
A complete report on the generation of the stable cell line and the best three clones will be provided.
How can we help you?
Thanks to our team of experts as well as the integration of the entire process in IMMUNOSTEP's facilities, the service department at IMMUNOSTEP has completed more than 100 projects involving the production of recombinant proteins for their use in functional assays, as antigens in the development of antibodies, structural analysis, and many other applications related to the production and characterisation of biomarkers and proteins of interest in areas such as diagnosis and therapy. Below are some examples of finished projects:
| | | |
| --- | --- | --- |
| Nº | Service | Description |
| 1 | Bacterial expression and purification. | Expression of the enzyme D-xylose-dehydrogenasein E.coli (BL21), purification by molecular exclusion chromatography and characterisation of the enzymatic activity. |
| 2 | Expression and purification in mammalian cells. | Transfection of CHO and HEK293 cell lines, expression and purification of membrane protein CD19 by affinity with a 6xHis tag. Analysis using WB. |
| 3 | Development of a stable cell line. | Construction of the target vector, transfection of cell line HEK293, validation of the expression of membrane protein CD34, using cytometry. |