TransFix® - Bone Marrow Stabilisation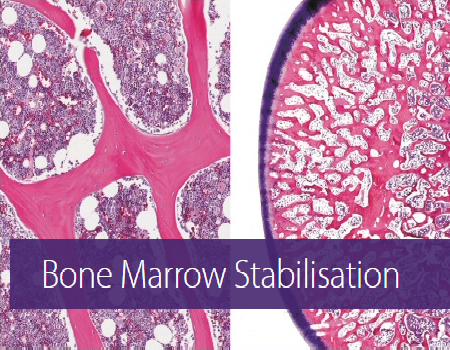 Applications of TransFix: TransFix can be used to stabilise Bone Marrow Cells for Flow Cytometry
Bone marrow examination is an essential procedure for the evaluation of a variety of clinical haematologic disorders and for preclinical toxicity studies of anti-cancer compounds and immunosuppressive agents. This has resulted in bone marrow flow cytometry becoming a routine test in clinical laboratories.
TransFix has been shown to stabilise cells within human bone marrow populations. This allows immunophenotyping by flow cytometry to be conducted at a time that is more convenient to the operator.
Independent research involving the use of TransFix to stabilise bone marrow samples has been published, including the use of TransFix for the enumeration of bone marrow mast cells (case study 1) and for immunophenotyping rat bone marrow stem cells (case study 2).
Benefits of TransFix:
• In cases in which sample processing will not be conducted within the first 24 hours following a bone marrow puncture, TransFix has been used to avoid deterioration of cells (1)
• Stabilising bone marrow stem cells with TransFix prior to immunophenotyping, has allowed researchers to complete time sensitive aspects of studies (2)
Case Study 1: Use of Transfix for the Enumeration of Bone Marrow Mast Cells
Mastocytosis is a term used to designate a heterogeneous group of disorders characterized by an abnormal proliferation and accumulation of mast cells (MCs). Aberrant mast cell surface marker expression can be detected in the bone marrow aspirate by flow cytometry.
For the enumeration of Bone Marrow MCs, fresh samples with high cell viability (>95%) should be used. In cases in which it is not expected to perform sample processing within the first 24 h following a BM puncture, a stabilizing solution should be used to avoid deterioration of cells [e.g., TransFix (Cytomark, Buckingham, UK)].
Reference: Sanchez-Munoz et al (2011). Immunophenotypic Characterisation of Bone Marrow Mast Cells in Mastocytosis and other Mast Cell Disorders. Methods in Cell Biology (103): 333-359
Case Study 2: Stabilisation of Rat BMSCs with TransFix for Immunophenotyping
This study investigated how the administration of bone marrow-derived stem cells (BMSCs) can aid recovery of mitochondrial respiration following ischemia/reperfusion (I/R) injuries. The BMSCs were used immediately following isolation from the extracted bone marrow and some were retained for characterisation. 3×106 of the BMSCs were resuspended in PBS and stabilised using 1 part TransFix to 5 parts cell suspension for subsequent immunophenotyping, allowing the researchers to complete other time sensitive aspects of the study.
Reference: Beiral et al (2014). The Impact of Stem Cells on Electron Fluxes, Proton Translocation, and ATP Synthesis in Kidney Mitochondria After Ischemia/Reperfusion. Cell Transplantation (23): 207-220
*Cytomark has not independently verified the stabilisation of bone marrow cells using TransFix.
Product Information
TransFix is provided in 1 and 20ml aliquot sizes and in pack sizes of 10 and 50 1ml tubes. This gives the end user most flexibility with regard to application of TransFix to research samples.