Mirus Evo Nanopump - PC Controlled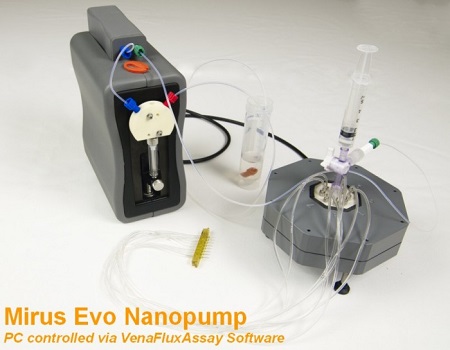 The Mirus™ Evo Nanopump is a microfluidic syringe pump PC controlled via VenaFluxAssay Software.
Features:
• Includes MultiFlow8 for precision flow splitting with equal flow rate in each channel.
• MultiFlow8 contains 8 valves which can be switched on/offi independently.
• Higher throughput enabling 8 assays in parallel.
• Patented flow damper to decrease syringe pump pulses – particularly important when connecting to microfluidic biochips to prevent pusling/jerking motion comapred to standard syringe pump.
• Flow rate:  100nL/min – 10mL/min ± 1%.
• Standard syringes:  50µL – 5mL.
• Dead volume:  ~600µL.
• Flow direction reversible.
• PC controlled via VenaFluxAssay software.
• Mirus Evo may be sold separately without MultiFlow8.  MultiFlow8 can be purchased later if required.
• Includes tubing kit for Vena8 biochips or alternative tubing kits for connection to any microfluidic biochip.
Applications:  Microfluidic applications, single cell analysis, Microfluidic syringe pump for cell analysis under shear flow in biochips.  Suitable for cell samples and whole blood samples.
Specifications:
MultiFlow8TM
Capable of executing up to 8 assays in parallel in Vena8TM biochips resulting in an 8-channel syringe pump.
Shear Stress Range for cell suspension
0.05 – 10 dyne/cm2; steps of 0.05 dyne/cm2 (100 mL syringe)
Shear Stress Range for whole blood*
2.25 – 450 dyne/cm2 (1 mL syringe)
Volumetric Flow Rates
100 nL/minute – 20 μL/minute (100 mL syringe)
Dead Volume
600 μL
Sample Volume Increments
• Freely adjustable

• Pulsatile flow option available

Valve Switching Time
30 ms max (at 20°C, 2Hz, with air under 10psi pressure)
Working Pressure
30 psi – 2 bars maximum
Linear Velocity Range**
10 μm/s to 10 cm/s
Flow Direction
Reversible
Sample Volume Aspiration Accuracy
±1%
Shear Stress Accuracy
±0.5%
Sample Volume Aspiration Precision
<1% CV
Shear Stress Precision
<0.5% CV
External Trigger
2 inputs and 2 outputs external trigger for better operation with external units and softwares
Software Control
Integrated VenaFlux Assay software
Dimensions
• Pump:  84mm (W) x 180mm (D) x 192.5mm (H)

• MultiFlow8:  140mm (W) x 35mm (D) x 140mm (H)

 Weight
• Pump:  ~2kg

• MultiFlow8:  <0.5kg
*Considering human whole blood with a viscosity of 4.5 cP
**Given for the flow of distilled water in a microcapillary with dimensions:  400 mm (W) x 100 mm (D) x 20 mm (L)
VenaFlux Platform Technical Presentation
Technical overview of the components which comprise the VenaFlux platform; a microfluidic platform for the investigation of cell adhesion, migration and transmigration under shear flow conditions. Components include Cellix's Mirus Nanopump, different microscope workstations (Zeiss, Nikon, Leica, Olympus etc.); motorized stages (Marzhauser, Ludl); digital cameras (Hamamatsu, QImaging, DeltaPix etc.) and cell image analysis software (DucoCell, Image-Pro Plus, MetaMorph etc.).
VenaFlux Platform & Biochips for Leukocyte Adhesion & Inflammation Studies
Investigation of THP-1, PBMC adhesion to VCAM and HUVECs under physiological flow conditions.
Atherosclerosis
Cellix's VenaFlux platform and biochips are used to investigate the role of different stimuli recognized to play an important part in atherosclerosis development (chemokines, cytokines, oxidized lipoproteins) on leukocyte adhesion to endothelial cells or purified adhesion molecules, under physiological flow conditions.
Vena8 Endothelial+TM Biochip
Cell-cell adhesion; culturing a wide range of Primary Endothelial cells and whole blood analysis.
Thrombosis
Investigation of platelet adhesion, aggregation and thrombi formation under physiological shear stress conditions using Cellix's VenaFlux platform and Vena8 Fluoro+ biochips (compatible with confocal microscopy).