SpectraDye Sekonder Antikorlar
Fluorescently labeled secondary antibodies
• Fluorescent detection –secondary antibodies with a range of fluorescent conjugates
• Performance – strong signal and no cross-reactivity
• Convenience – each antibody demonstrated to provide optimal results with Advansta's Western blotting systems
• Flexibility – choose from visible or near IR fluorescent dyes and target species best suited to your application (see product listings)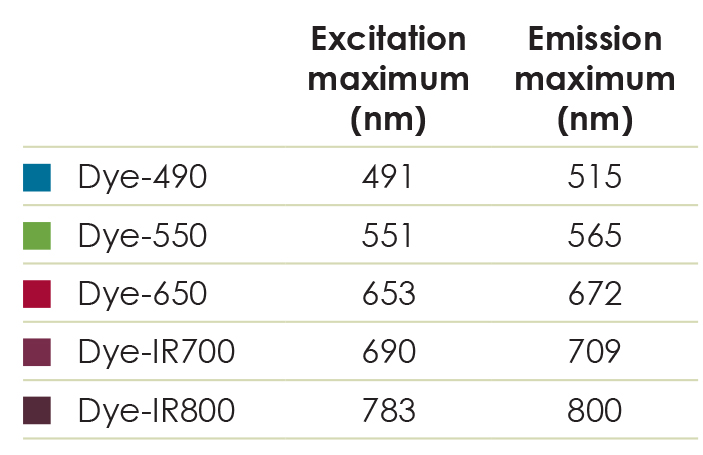 Description
Each high quality antibody offers unparalleled sensitivity and performance. Choose from secondary antibodies of different species specificities conjugated with fluorophores in the visible or near-infrared (IR) range.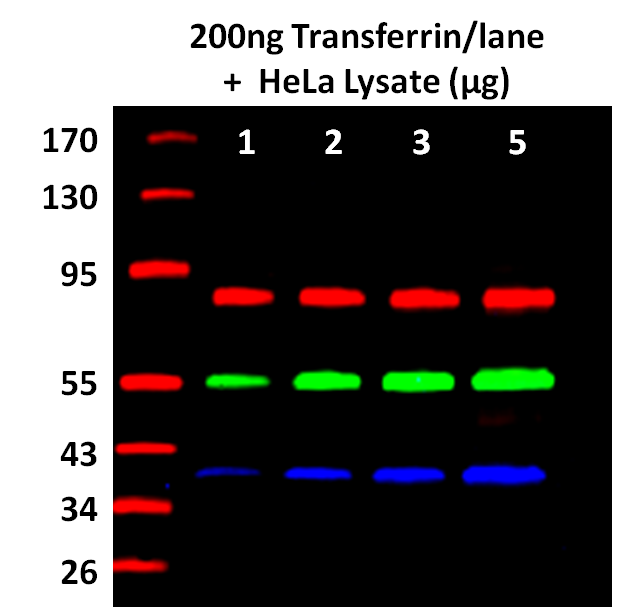 SpectraDye secondary antibodies demonstrate sensitivity and performance. Purified transferrin was spiked into increasing amounts of HeLa cell lysate. The Western blot was probed with primary antibodies Rabbit anti-transferrin, rat anti-tubulin, and mouse anti-GAPDH; secondary antibodies were anti-rabbit SpectraDye 650 (red), anti-rat SpectraDye 550 (green), and anti-mouse SpectraDye 490 (blue).
Achieve fast and convenient workflow when using the dyes in conjunction with Advansta's WesternBright™ MCF system for multi-color fluorescent Westerns. This system includes low-autofluorescence PVDF membranes, AdvanBlock™-PF blocking buffer, AdvanWash/AdvanWash-IR wash buffer, and background quenching sheets.